Growing Closer to YOU: The 10 Spiritual Developmental Tasks of Midlife DVD Program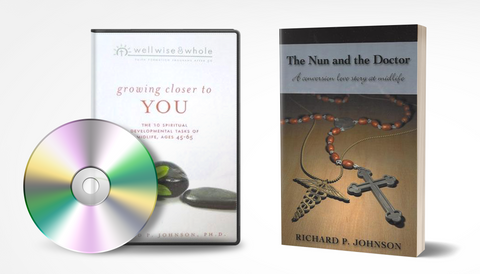 Growing Closer to YOU: The 10 Spiritual Developmental Tasks of Midlife, Ages 45-65.
(10 sessions)

Audience: All Christian adults ages 45-65 who wish to better incorporate the spiritual growth inherent in the middle years.
This 10 Session DVD Program comes with
The Nun and the Doctor (an engaging novel that creatively covers the course material)and Reproducible Topical Outlines and Insight Exercises

This program breaks new ground in that it specifically identifies the spiritual "work" that is necessary in the midlife years (ages 45-65)for optimal spiritual development.
It's in midlife when the story of our true spiritual development begins in earnest; it is in midlife when we set down the foundation of the rest of our life. What came before midlife is prelude, a preparation for our fantastic journey of interior growth and psycho-spiritual alignment of midlife. This is a process that takes the rest of life; it advances our spiritual authenticity, our quest for God at midlife.

Each stage and phase of life has its own, quite specific spiritual learning.

My research has identified ten specific tasks that need to be addressed in the spiritual stage of midlife. These ten tasks provide the framework of this program. This is the spiritual work that propels us to optimal living and enhanced spiritual growth in Christ during our middle years.
Participants are treated to an entirely new and spiritually captivating, Christ-centered view of the spiritual growth opportunities of the middle years. Never before has midlife been presented in such an in-depth yet understandable and transformative way as it is in the DVD format. Dr. Johnson teaches with grace and zest, illustrating the panoramic breadth and depth of God's call to us in midlife. Participants delight in new insights and are inspired by beautiful spiritual purpose of the middle years.
Session 1. Looking Ahead vs. Looking Behind
Session 2. Living Youthfully vs. Living as a Youth
Session 3. Assimilating Contradictions vs. Demanding Consistency
Session 4. Evolving an "other" Focus vs. Remaining "self" Focused
Session 5. Reconstitution vs. Fragmentation
Session 6. Consolation vs. Desolation
Session 7. Purposeful Living vs. Purposelessness
Session 8. Positive Change vs. Fixation
Session 9. Life Enrichment vs. Idle Busyness
Session 10. Self-Possession vs. Self-Forfeiture