Loving for A Lifetime: The Six Secrets of a Happy, Healthy and Holy Mature Marriage DVD Program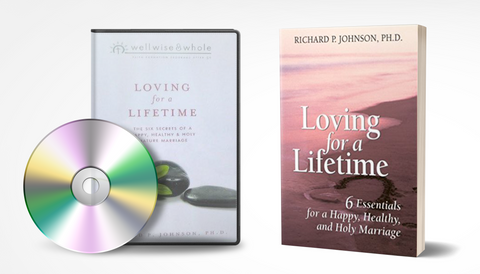 Loving for A Lifetime: The Six Secrets of a Happy, Healthy and Holy Mature Marriage DVD Program
6 sessions plus Introduction DVD

Audience: 1. Already married couples age 50+ for marriage enrichment/education programs.
2. All couples preparing for marriage who are 50+.

The primary spiritual developmental requirement of the mature marriage is learning to find the ever- evolving sacredness (God connections) in their union.
Partners in maturing marriages (aged 50 and beyond) require assistance as they gradually face new marriage and life issues: increasing longevity, emphasis on health maintenance, financial concerns, loss of loved ones, denial (or fear) of aging, adult children issues, grandparenting, escalating caregiving requirements, retirement, mental health issues, shifting relationship needs, and the pace of change in our society.
How the mature couple addresses these issues spells the difference between a happy, healthy, and holy marriage, and one that simply is not. Here is the spiritual meaning of the mature marriage, discovering God anew in the simple NOW of life together.
The program is organized around the six essentials of a mature marriage:

Session One:

Sacred Unity:

the sacredness of Togetherness. Finding renewed connection in a world of separation.
Session Two:

Spiritual Faithfulness:

the sacredness of Respect. Learning and/or renewing the meaning of genuinely honoring one another.
Session Three:

Transcendent Prayerfulness:

the sacredness of Communication. Discovering and living in ever-deeper communication.
Session Four:

Holy Groundedness:

the sacredness of Intimacy. Learning to recognize and appreciate the ongoing 'sacredness' of our marriage.
Session Five:

Redeeming Forgiveness:

the sacredness of Trust. Letting go and letting God's healing absolution saturate our union.
Session Six:

Blessed Uniqueness:

the sacredness of Commitment. Fostering a fuller flowering of distinctiveness and color in our marriage.
Participants learn that mature Christian marriages thrive when each partner takes up their relationship responsibility of helping to till, and water and weed and tenderly tend their spouses spiritual garden. "I am dedicated to your faith growth, and I am confident that you are dedicated to mine."
NOTE: This program can be used as both a marriage prep
and

marriage enrichment program for maturing persons ( age 50+).
The program, as taught by Dr. Johnson, is sprinkled with both individual, and couple "insight exercises" wrapped in an inspirational "package."